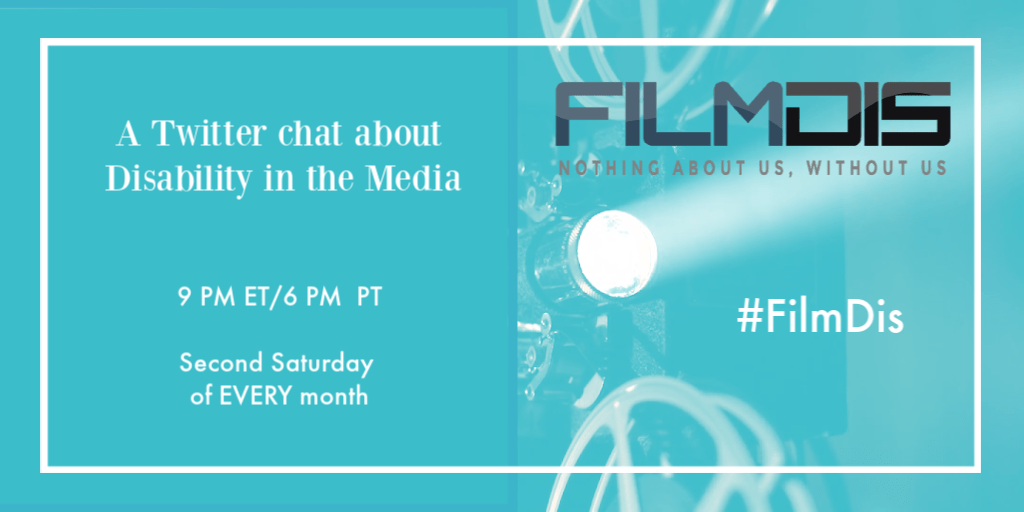 Image Description: A blue/teal background features white text enclosed within a white border. The text on the left reads: "A Twitter chat about Disability in the Media 9 PM ET/6 PM PT Second Saturday of EVERY month."
On the right the background is faded with a film projector. Text over the image is featured in the FilmDis logo, which reads: "FilmDis Nothing About Us Without Us." The hashtag #FilmDis is also on the right side under the logo.
#FilmDis is a weekly discussion held on Twitter that explores film, television, and other aspects of media through a disability perspective. #FilmDis was started in 2014 to not only discuss frustrations with Hollywood and the greater media which have both excluded and misrepresented disabled people, as well as the greater disability community, but also to educate those who have no understanding of the impact such representations can have on those living with disabilities. How the media portrays disability can affect everything from how we are treated to whether disability positive legislation is passed. There is a responsibility when including disability in stories, and often that is not taken seriously.
If we want things to change for us, to get better, so we are treated better, and so we have greater opportunities in all aspects of our lives, we need to recognize just how problematic film, television, and greater media are when it comes to disability.
All you have to do, to participate, is follow and post with the #FilmDis hashtag. Share any disability-related content involving media throughout the entire year. Also, engage with the hashtag on Twitter during the designated regularly-held chat, which is the second Saturday evening of every month at 9 PM ET/6 PM Pacific.