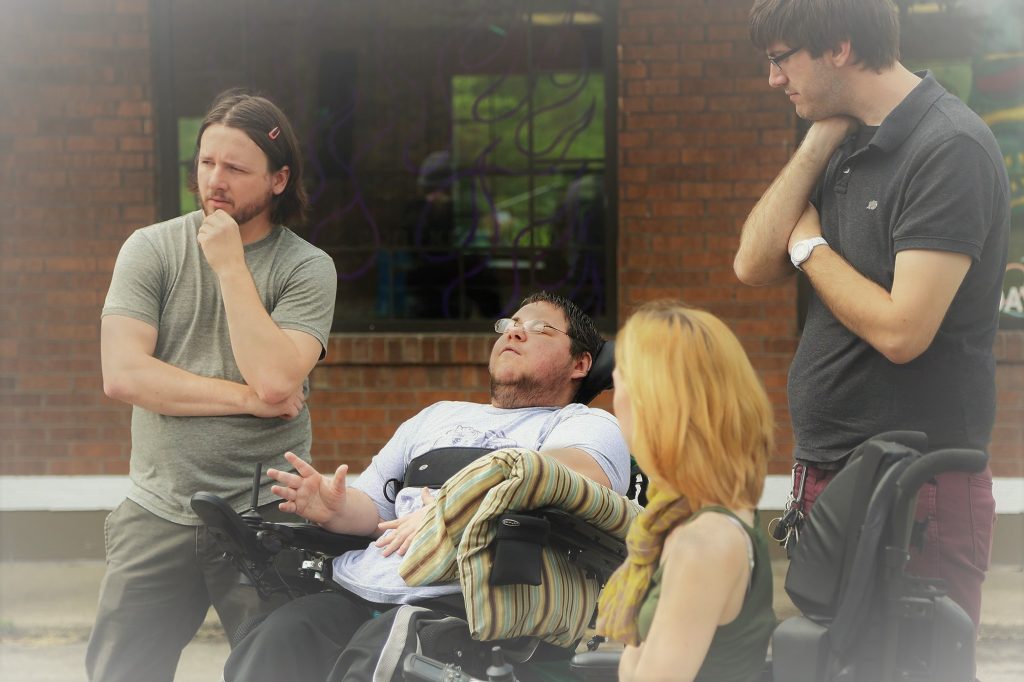 Disabled director, Dominick Evans, disabled editor, Kasey Faye, cinematographer Kyle Wilkinson, and AD, Randy Miller, look on while discussing set up for a scene during shooting of the film, trip.
Here at FilmDis we have a lot of projects going on. This page will let you know everything we're working on so you can find the projects that will interest you the most.
Research Studies – Our inaugural annual research study on TV Representation has already been released. Each year this study will be released to show the differences in years and whether or not there is any progress or decline from year to year. In the future, with proper funding we'd like to offer studies on other areas of media, so stay tuned for those!
Media Projects – Our Media Projects start with our podcasts. We will be incorporating many other types of media into our work, but this is where it starts.
Our brand-new FilmDis podcast will talk about Television and disability. Hosted by Dominick Evans and Ashtyn Law, this podcast will talk about findings from the FilmDis research studies, TV and movie news, and details about disabled entertainers working in front of and behind the camera.
Twitter Chat – The #FilmDis Twitter chat is the longest running chat about disabilities and media that we know of! Join us monthly for predetermined topics, special guests, and more! You can visit our events page or Twitter to find out about upcoming chat topics.
These are just some of the projects we're working on. Make sure to check back for more details on all of our upcoming projects!